Irdeto TraceMark for Distribution v3.1.0 Released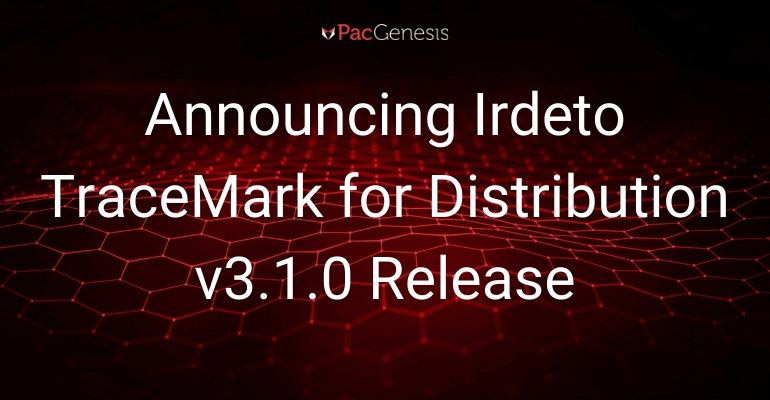 Irdeto has released a new version of their Irdeto TraceMark Watermarking for Distribution offering. With this release, not only does it introduce a new /v4 API for their all-new Short-Clip functionality, but this new API also reconnects the compatibility of TraceMark with the Aspera on Cloud third-party integration.
This release also adds new codec support functionality that helps customers protect an even wider range of content distribution workflows, including:
Quad Byte Alignment: Satisfies strict requirements for re-encoded watermarked frames with enhanced support for MPEG2
Added H.264/AVC in MPEG-TS Support: Meets requirements to muxing of the elementary stream that needs to be met for DWM to process streams correctly.
Added Interlaced H.264/AVC Coding Support: Supports mode MBAFF coding, but limited with interlaced PAFF mode.
What is Irdeto TraceMark for Distribution?
This forensic video watermarking and file-based content distribution solution embeds an invisible, unique forensic watermark in every downloaded media asset to help identify the content distribution channel. Irdeto TraceMark watermarks a wide range of assets automatically as a cloud-based managed service.
Distributor Watermarking is designed to perform tasks like:
Uniquely watermark each outgoing asset to track the precise delivery path that leads to the leak (in the event there is one)
Deliver content leveraging cloud infrastructure and bandwidth
Scale as many assets, platforms, and distributors as needed
Integrate with Aspera on Cloud, or via REST APIs in a Content Management System (CMS) to trigger watermarking on a per-asset basis
Reduce on-premise costs for hardware and storage
Irdeto's Distributor Watermarking is optimized for very high visual quality mezzanine-type content and broadcast-quality distribution formats. It can support anything from short clips to long-format movies. The watermark is invisible in all types of scenes and does not impact the quality of the video.
Resolution ranges supported by Irdeto start from 720×480 to 3840×2160, including SDR, HDR, 8- and 10-bit color depth. It also includes J2K, ProRes, H.264, HD50, XDCAM, MXF, and IMX.
Irdeto Distributor Watermarking and IBM Aspera
IBM Aspera is a secure content and file transfer service built on an award-winning FASP protocol. It helps you deliver the files quickly and reliably by eliminating bottlenecks and risks associated with outdated technology. Using the integration of Irdeto TraceMark and Aspera on Cloud, your files can be watermarked directly from Aspera's management interface or via APIs. Content can then be delivered as an individually watermarked asset to any number of recipients.
With TraceMark and Aspera, you get:
Digital Workflow Packages: With the help of the two services, apply watermarking to package upload and package download.
Seamless Integration: The smooth integration with Aspera on Cloud makes the watermarking process unnoticeable for distributor customers.
Fast Deployment: Full integration with IBM Aspera on Cloud ensure deployment that scales to any number of files and downloads.
PacGenesis Provides Irdeto TraceMark & IBM Aspera on Cloud
At PacGenesis, we are verified partners of Irdeto and an IBM Gold Business Partner. With over 10 years of experience helping businesses scale their content delivery methods quickly, reliably, and securely, we specialize in Irdeto TraceMark and can help your business leverage the built-in integration with Aspera on Cloud. Having an integrated solution to seamlessly accelerate the transfer of data with forensic watermarks enables simple, effective, and secure content exchange. Contact us today to learn more about Irdeto Distributor TraceMark, Aspera on Cloud, and how your business can utilize both.
To learn more about PacGenesis, follow @PacGenesis on Facebook, Twitter, and LinkedIn or visit us at pacgenesis.com.