What is Latency?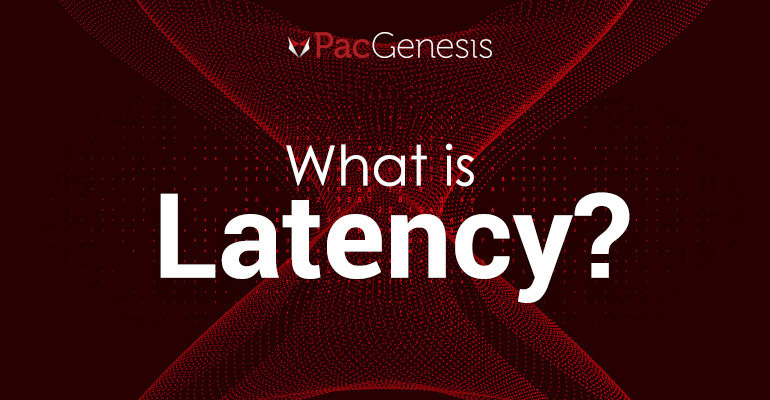 Latency is the amount of time that it takes for a signal to travel from a computer to a remote server and back again. It describes the amount of delay on a network or internet connection. When it comes to measurement, low latency implies there are no or almost no delays, while high latency implies there are many delays.
Many of today's businesses are reliant upon cloud applications to tackle critical tasks. Coworkers are not only communicating across distributed worksites, but they also depend on cloud-based management tools to access information, share files, and transfer data. High latency slows down these processes, creating inefficiencies that negatively impact employee and business productivity.
Latency vs. Bandwidth: What's the Difference?
Bandwidth is what most internet service providers advertise on their plans, also referred to as download speed. It measures how much data can be sent to your computer.
Latency measures how long it takes a specific piece of data to reach your computer. High latency can actually offset the effectiveness of a high-bandwidth connection because these packets of information take longer to respond and clog the network. Many people try to offset this problem by purchasing more bandwidth. However, if a business doesn't solve the underlying latency problem, they'll continue to see the same lagging speeds even after buying more bandwidth.
How to Solve Latency Issues for File Transfers
The larger a file or data set is, the more time it takes to be sent on a high latency network. In order to solve the problem, you need a file transfer protocol that efficiently manages transfers regardless of high latency or high bandwidth networks.
While traditional methods for transferring data across the internet all rest on the transfer control protocol, it is not the most efficient for long-distance transfers. It may work fine for short distances, but it can be greatly impacted by latency due to the mechanism it uses for data transfer.
To overcome the latency challenge with transfer, companies need file transfer software that uses a better, more improved protocol that implements flow, congestion controls, and compensation for data loss.
How Aspera Improves Performance
With fast file transfer and high-speed solutions built on their award-winning FASP protocol, IBM Aspera software enables secure movement of data at line speeds, regardless of latency or geographic distance between the sender and receiver.
The IBM Aspera FASP protocol uses a unique and patented approach that enables maximum speed without network saturation. With it, your company gains a higher degree of reliability with an automatic resume and restart from any point of interruption. Aspera enables its users to predict transfer time, regardless of distance or network conditions.
Contact PacGenesis to Learn More
PacGenesis provides professional services for the implementation of all IBM Aspera file transfer solutions. As an IBM Gold Business Partner with over 10 years of industry experience, we have helped businesses like yours overcome high latency issues and increase productivity with file transfer software. To learn more about how Aspera can help your business, contact us today.

To learn more about PacGenesis, follow @PacGenesis on Facebook, Twitter, and LinkedIn or contact us at pacgenesis.com.