Administering Workspaces in Aspera on Cloud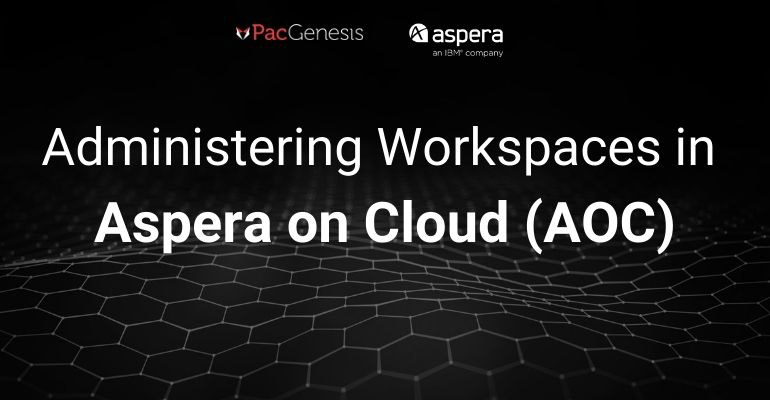 Introduction
IBM Aspera on Cloud (AoC) is a hybrid SaaS offering that enables high-speed file transfer for end users through a simple web interface.
Organizations that have a subscription to AoC Advanced Edition or AoC Enterprise Edition can configure multiple Workspaces within their AoC deployment. A workspace is a collection of users, storage, and permissions. Every workspace is independent, so they can be used to isolate users based on your business needs. Some customers will create new workspaces for each internal department or for collaborating with individual external vendors and partners; others find it more useful to make a separate workspace for specific projects.
This article will describe how to administer workspaces.
Creating Workspaces
As an AoC administrator, you can create a new workspace in the Admin application and navigating to Workspaces -> All workspaces -> Create new. On this page, you will create a name and description of the new workspace, and select which Node to use for package storage and for home folders (if enabled). NOTE: the default node for a workspace cannot be changed later, so plan ahead! You can always create new Shared Folders for the Files app in a workspace later, but the default node cannot be changed.
Workspace Membership
You can add any number of users or groups into a workspace on the Members tab. Users and groups can be regular members of a workspace, or you can also assign Workspace Manager permissions to delegate limited authority for a workspace. A workspace manager has some admin functions within that workspace, without needing to be a full AoC administrator.
Application Settings
The Files and Packages applications will inherit your organization-wide settings by default. You can override these settings on the Applications screen for each workspace. Common customizations include enabling/disabling sharing or sending content to outside users. For example, you may have external recipients disabled system-wide, but have one workspace for external collaboration where this is enabled.
You can also completely enable or disable the Files or Packages applications for a workspace. If you have a project that will only be sending digital packages to external partners, disabling the Files app completely will simplify the experience for end users.
Workspace Branding
Workspaces can also be branded – a graphic can be uploaded to the Profile page of a workspace. Further, email notifications can be customized per-workspace. Many AoC workflows rely heavily on the many email notifications that can be generated by the system after certain events. Click on the Notifications tab. You can customize which notifications are enabled or disabled for the workspace, and you can also customize the content by editing the Templates for your workspace.
Learn More
PacGenesis experts are ready to assist with your Aspera workflows.
To learn more about PacGenesis, follow @PacGenesis on Facebook, Twitter, and LinkedIn, or contact us at pacgenesis.com.