What is Stream Ripping/Destreaming?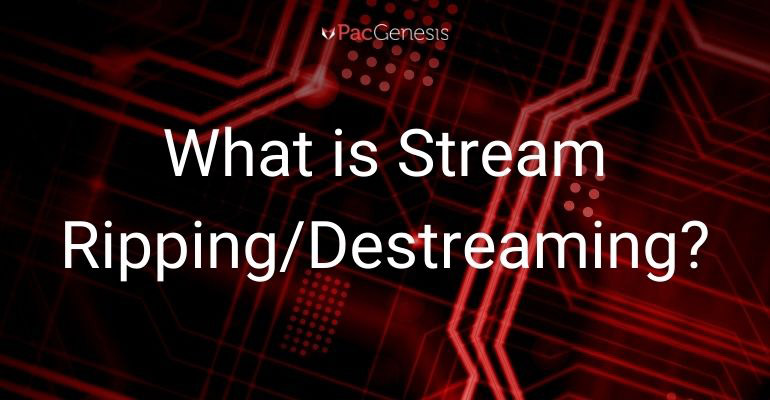 What is Stream Ripping/Destreaming?
Steam ripping or "destreaming" occurs when an individual rips music or video from a streaming platform before converting it into a downloadable file that any user can use offline. They obtain a permanent copy, usually without consent from the streaming service they ripped it from. This gives users access to the file without having to go back through the streaming service it was taken from. With a file like this, it means any user can easily share it between other devices or users.
These streaming platforms can include services like YouTube, Netflix, Amazon Music, Spotify, and sports streaming services that offer music and videos online.
How Stream Ripping Works
Using specialized software, a user can save the streaming media to a file that they can access on their computer. Some software uses the website URL of the streaming media to record it, while others are even simpler than that, capturing the content from someone's desktop like a screencast. YouTube is one of the most commonly used stream services by stream rippers since it contains a wealth of content, but there are other tools out there for Spotify, Apple Music, and other various popular platforms.
While many different software tools achieve the result many "stream rippers" are looking for, it doesn't make it legal.
The Legal Issues with Stream Ripping
Stream ripping is a constantly growing form of infringement. Piracy and illegal music downloads have been an ongoing issue online for a long time. If pirates and cybercriminals are supplying your content to consumers in a new market due to stream-ripping, your ability to distribute your content in that market can be compromised.
Streaming sites like YouTube have started blocking access to known stream-ripping sites in the last few years, but it's still crucial for your own business. Online piracy continues to evolve and become more sophisticated. Businesses need to secure their content while still accommodating for customer demand and the need for high-quality experiences.
Irdeto Provides Content Protection Against Stream Ripping
As a cloud-based managed service, Irdeto helps businesses manage technology implementations, combat the growing sophistication of online piracy, and accommodate customer demand. With access to Irdeto's services, your business will have access to:
Watermarking for various mezzanine and broadcast-quality distribution formats
Scalable deployment in the cloud to handle urgent deliveries and peak demands in the distribution network
A single uniform security solution that helps identify the source of pirated content, shut down illegal services, and investigate and prosecute commercial pirates
Online piracy detection to help maximize viewership revenue by safeguarding live events and video-on-demand content from unauthorized access and redistribution
With Irdeto's exclusive core security technology, you'll be able to protect both content and software itself with the most advanced and widely deployed cardless conditional access system for broadcast and IPTV operators worldwide. You'll also have access to Irdeto TraceMark, the forensic watermarking service that helps protect content and revenue from production-consumption using the award-winning, patented solution. It supports different use cases like tracking security weaknesses in distribution channels or identifying individual pirate sessions.
Prevent Stream Ripping with Content Protection and PacGenesis
At PacGenesis, we've been helping companies like yours protect content like videos and music and maximize viewership revenue for over 10 years. We've helped major brands find the solutions they need to fight piracy and illegal downloads, and we want to help you. As a certified partner of Irdeto, we are able to provide you with the information you need to not only learn more about their services but also the importance of secure digital video delivery and cybersecurity.

To learn more about PacGenesis, follow @PacGenesis on Facebook, Twitter, and LinkedIn, or visit us at pacgenesis.com.