What is Managed File Transfer?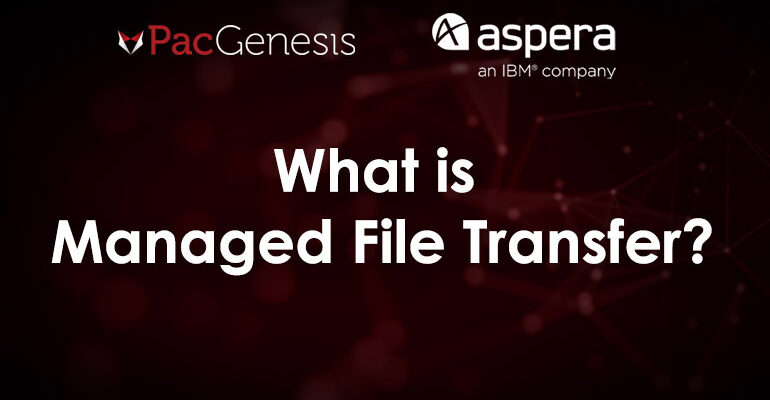 Managed file transfer (MFT) is a technology platform that allows organizations to reliably and securely exchange data between systems and people. Often offered as a software or as a service, it enables your company to move data both internally and externally, including any content that is sensitive, compliance-protected, or high-volume.
MFT is a more reliable and more efficient way for secure data and file transfer, outpacing and outperforming other methods like file transfer protocol (FTP), hypertext transfer protocol (HTTP), and secure file transfer protocol (SFTP).
The Benefits of Managed File Transfer
More often businesses are relying on the exchange of electronic files and data daily. Without an MFT software, unstructured data like reports, contracts, data, and customer or employee information is open to manipulation and loss from cybercriminals.
Efficient, secure movement is critical to an organization's success. There are several benefits pushing more and more companies to move to MFT:
MFT offers a security strategy with real-time monitoring, validation policies, and controls to protect content and data.
It also brings scalable, reliable governance to move files inside and outside the business, and around the globe.
Using an MFT system to encrypt, transmit, monitor, and store data helps organizations meet security mandates.
MFT offers advanced capabilities and support for multiple platforms, mobile devices, applications, and other IT infrastructures.
Key Features in a Managed File Transfer System
When looking for an MFT solution for your business, there are some key capabilities an effective managed file transfer system or software should have.
Security – Encrypt internal and external transfers both in motion and at rest.
Simplified File Transfer – Offers timely and flexible transfer across a range of file transfer activities. Supports multiple file types like multimedia, PDFs, emails, XML, EDI, etc.
Full Visibility – Provides a complete view in near-real time. Companies can see who is transferring, what is being shared, the volume passing through, and potential issues.
Compliance Standards – Strong encryption and full audit trails confirm regulatory compliance.
Discover Aspera File Transfer
Created by IBM, Aspera empowers your organization to share big data around the world. It is the world's fastest file transfer system, allowing you to share large files or large volumes of files instantly. Faster than FTP and HTTP, Aspera uses proprietary FASP technology to deliver data and content at incredible speeds.
With the IBM Aspera software, you'll be able to securely and reliably migrate, deliver, automate, collaborate, and sync data to improve your business' performance:
Dramatically increase data movement and accessibility across cloud developments
Speed up processes with super-quick synchronization and file-sharing
Enable faster batch processing and big data analytics
Accelerate project deadlines and outcomes
Discover Aspera with PacGenesis
Learn more about how your organization can leverage Aspera to quickly transfer large files and data by contacting our team at PacGenesis. As an IBM Gold-status partner and our 10+ years of experience helping organizations adopt new file transfer solutions, we can help your business by answering any questions you may have related to managed file transfer systems and softwares. Contact us today and ask us any questions you might have about using Aspera in your business.

To learn more about PacGenesis, follow @PacGenesis on Facebook, Twitter, and LinkedIn, or contact us at pacgenesis.com.