How to Increase File Transfer Speed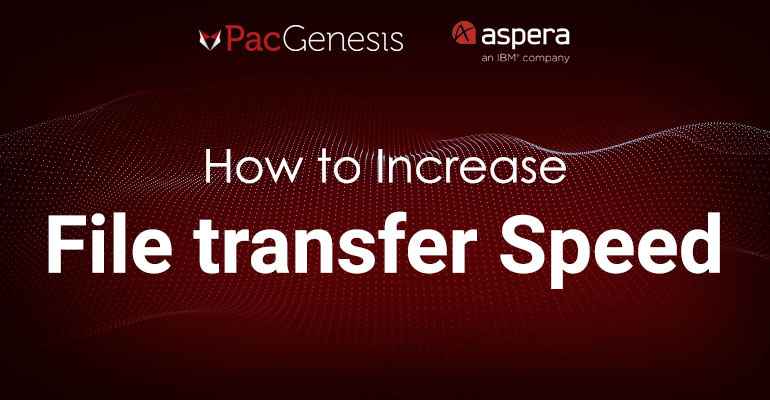 Whether you're trying to send a promotional video to a client or a large data set to your team, slow transfer speeds could determine your business' performance.
Sending large files or large content through an email account is not ideal. Since email providers like Google only allow you to attach files up to 25MB, that means you need a way to increase your file transfer speed without taking a whole day. Here are a few ways you can increase file transfer speed to your clients and team members.
Upload your files to cloud storage
Uploading files to cloud storage is one way to transfer large files like photos and videos. There are plenty of options on the market from Google Drive to OneDrive. Each product is accessible with enough space to cover most file types. While these types of clouds are great for long-term sharing solutions, they can still take a long time to initially upload onto the cloud. This can be a problem if there is a sense of urgency behind the data or content you're sending.
FTP
FTP or file transfer protocol is an outdated way to transfer files between FTP servers and clients. FTP was designed for transferring files, but does not have high performance. All that's needed is an FTP client. While FTP is a slightly faster file transfer solution than email, it is not secure. Usernames and passwords are transferred in plain text, so a hacker can read the contents of the files.
Hard Drive
If you have many large files to send, then filling them up on a hard drive is an effective way to transfer files. If you are transferring these files to someone who is nearby or at least in close proximity, then physically sending a large volume of files is often faster than attempting to upload those files through email and a broadband connection. If you're not in person, this could be a slower process and it also poses some risks of damage and theft if you attempt to send it via courier.
Aspera High-Speed Transfer Technology
The Aspera platform is the most advanced software solution for file transfer, allowing users and businesses secure, high-speed movement of all data over any distance. Covering a wide range of servers and applications, Aspera provides the most modern and flexible options to transfer various files across your company and with clients.
The Aspera technology combines the IBM patented FASP protocol with comprehensive transfer and user management for large-scale file movement. Running on-premise or on-demand in the cloud, Aspera delivers speeds up to hundreds of times faster than FTP and HTTP and maximizes available bandwidth without impacting other traffic. You can see exactly how fast IBM Aspera can transfer your data by using the IBM Aspera File Transfer Calculator.
Ask Your Questions About Increasing File Transfer Speed
If you have any questions about increasing file transfer speed in your business, our team of Aspera experts can help. As an IBM Gold Business Partner, we're suited to answer all your questions about file transfer software or Aspera, as well as help you find the right solution for your organization.
Reach out to our team:
To learn more about PacGenesis, follow @PacGenesis on Facebook, Twitter, and LinkedIn or visit us at pacgenesis.com.