The Need for High-Res Content is Driving File Size Growth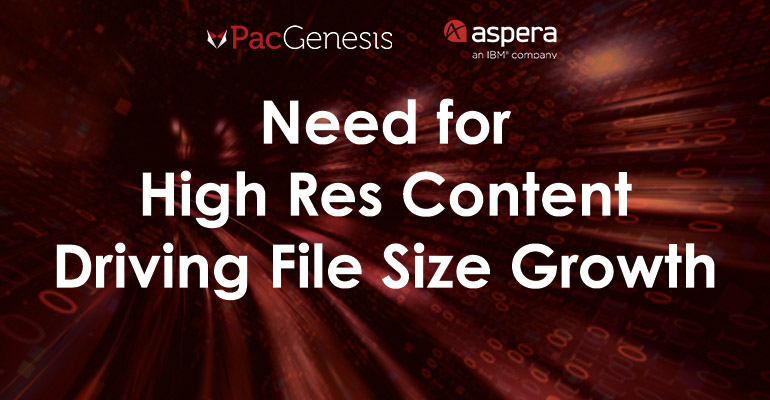 The Need for High-Res Content is Driving File Size Growth
Video file sizes are getting larger as the demand for more high-resolution content increases. With picture and video improvement technologies that can enhance a viewer's experience, it increases the amount of data required to share and deliver even just an hour of video.
High-Resolution Content File Size Growth
Full HD and 4K video have been popular for quite a few years now, and the availability of 8K video has been made popular with phones like the Samsung Galaxies. Even just an hour of footage at 30 fps, a standard recording speed, for any of these types of video resolution can take up quite a bit of space.
Full HD: 130 MB
4K: 22.5 GB
8K: 36 GB
With high-resolution videos at the tip of consumers' fingers, they have the power to record home videos at these levels. For companies that produce or distribute content, it brings demand for more high-resolution content. With the increase in file size as the resolution becomes more improved, this means that companies need more storage and better rendering. Without a solution to help, timelines and quality of work can be put in jeopardy. It becomes a challenge to move files and content around the world to share with team members, collaborators, stakeholders, and audiences.
How to Deliver High-Resolution Content Files with Aspera
Preparing your business to deliver high-resolution content means there needs to be a solution that can help deal with the challenges. Through the process of creating and distributing high-resolution content, businesses need to be able to deliver results faster than ever before to meet deadlines and provide results.
IBM Aspera's patented FASP technology, businesses can securely and reliably deliver high-res media files like HD, 4K, and 8K with incredible speed over their existing networks. No matter where the content originates, editors can quickly ingest, process, and deliver large media files. They can be distributed over the network at line speed, regardless of distance, and fully utilizing the available bandwidth.
Using Aspera, your business can:
Ingest content and projects at high-speed across global distances
Distribute digital assets internally or externally
Automate receipts of digital deliveries
Streamline the workflow with post-receipt processing, transfers, and distribution between customers and vendors
Running on-premise or on-demand in the cloud, Aspera delivers speeds up to hundreds of times faster than other methods, regardless of file size. You can see exactly how fast IBM Aspera can transfer your data by using our Fast File Transfer Calculator.
Ask Your Questions About Transferring High-Res Files
If you have questions about transferring high-res files in your business, our team of Aspera experts can help. As an IBM Gold Business Partner, we're suited to answer your questions about transferring files and automating workflows or Aspera, as well as helping you find the right solution for your organization. Reach out to our team at (512) 766-87165. To learn more about PacGenesis, follow @PacGenesis on Facebook, Twitter, and LinkedIn, or visit us at pacgenesis.com.