How to Compress Large Video Files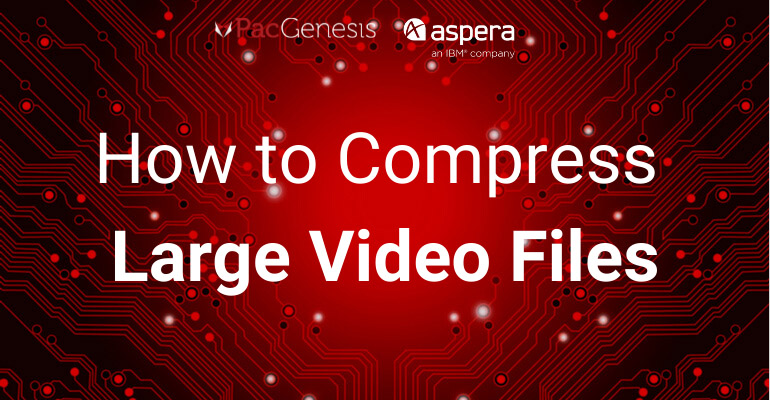 Sharing high-quality videos between colleagues and clients can be frustrating when video file sizes are too bulky. File sharing methods like email or corporate chat software have file size limits, keeping them from fitting into a message or taking a lengthy amount of time to download on the recipient's end.
Compressing your video files cuts portions off the size needed by your file, meaning overall quality will take a hit. Depending on the original size of the file, a loss in quality may not be noticeable, but it depends on how much smaller you have to make it and whether or not the file can suffer quality reduction. While this may not be a huge issue for family and friends to share videos of birthdays or weddings, it could affect the success rate for filmmakers and post-production houses who rely on quality.
Here is how you can compress large video files, as well as the downsides and alternative solutions to sharing large video files.
How to Compress a Video File
Reduce Video Resolution
One of the most common ways that people compress files is by reducing video resolution. When a video has a high resolution, the quality of the image is sharper, making it a larger file. To make the file smaller, the video resolution needs to be lowered. An important thing to keep in mind is that lowering the resolution may compromise the overall quality of the image.
Compress into a .zip File
Another popular method for compressing a video file is zipping it. This ensures that the file size is reduced while still maintaining a majority of the quality. Unfortunately, zipping the file does not reduce its size significantly, so this method is typically useful when a file is just above email or chat limits.
The Downsides of Compressing Large Video Files
As mentioned, compressing video files not only causes a loss in video quality but can also reduce the quality of the audio. While it may not be imperceptible in some cases, it can be problematic in scenarios like color correction phases of post-production. It can also take additional processing time to compress files on top of multiple steps depending on which type of video playback software you're using. Recipients may also have trouble opening a compressed file if they don't have the right software to watch.
IBM Aspera: Transfer Large Video Files without Compromise
IBM Aspera enables large video file transfers without the need to compromise video or audio quality. Hundreds of companies use IBM Aspera to maintain their video quality and achieve their transfer needs, including some of the most prominent studios and clients in the Media and Entertainment industries.
The Aspera suite of software enables companies to ingest, share, and stream large video and audio files globally at maximum speeds. It offers companies the ability to:
Streamline transfers, encryption, and other media workflows
Transmit 4K quality footage over global commodity networks with minimal ramp-up, complete scalability, and significant savings
Enable remote reporting teams to securely and reliably upload footage from anywhere at hundreds of times faster over Wi-Fi and many times faster using cellular networks
Integrate with leading media asset management tools with Aspera's APIs
Learn About Large Video File Transfer Solutions with PacGenesis
PacGenesis has over 10 years of experience working with media companies within the post-production industry to find file transfer solutions. Our expert team is here to help you figure out the best service and software to help your business send and share crucial video files to teammates and clients. We've been given the distinguished title of an IBM Aspera business partner, so we can help implement Aspera software for those looking for a reliable and fast file transfer solution. To help identify your business needs and set up an evaluation, contact us today. 
To learn more about PacGenesis, follow @PacGenesis on Facebook, Twitter, and LinkedIn, or visit us at pacgenesis.com.