File Transfer Solution for Post Production Industry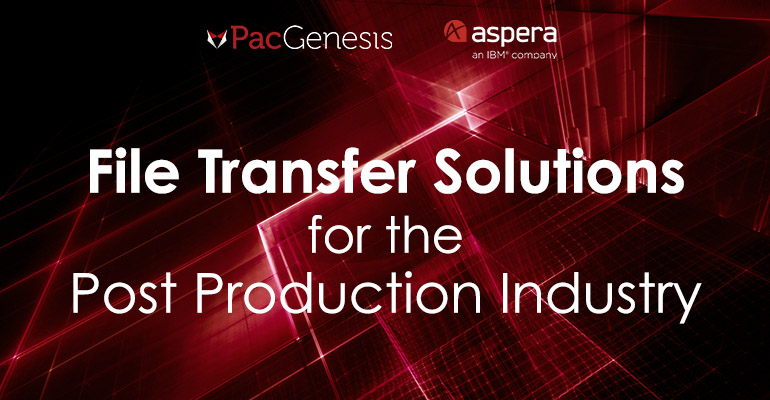 Managing large files has become an important solution for enterprises to solve, but none of them feel the urgency as much as media and entertainment companies. Film, television, and other media companies see very large file transfers that move more frequently, especially during post-production between studios for visual effects, sound enhancements, color adjustments, and more. Digital filmmaking and video production entail many unique transfer characteristics like:
Daily transfer of files that reach up to multiple terabytes in size
Vast geographical distances and multiple steps
Demanding schedules driven by stringent deadlines
The Problem with Using FTP
Many post-production studios commonly look to FTP to transfer their files and some still use it. Unfortunately, FTP has many limitations for media workflows like the slow speed of file transfers unable to accommodate client needs.
Security is also a growing concern with FTP. Even if it may not be a concern for smaller companies, it is most likely a concern with their partners and clients. In order to win bigger clients, smaller production companies will find that FTP and other non-media solutions like DropBox and Google Drive are often banned solutions because of security and performance problems.
Most Media and Entertainment companies that use FTP will start looking for a different solution to transfer large media files. Aspera has become an industry-standard thanks to its advancements in developing better and more efficient transport technology.
Using Aspera for the Post Production Industry
Using their patented transport technology, FASP, Aspera can achieve speeds much faster than FTP and HTTP while simultaneously delivering better security, integrity, and bandwidth control. Aspera has achieved this status by eliminating the underlying bottlenecks of other transfer solutions. Many leading motion picture studios and post-production houses use Aspera, not to mention broadcasters, cable networks, on-demand networks, and other content providers.
IBM Aspera enables large data set transfers over any network, regardless of conditions or distance. This helps media and entertainment companies meet their transfer needs both for the size of files and the locations it needs to transfer to. You can get an idea of the transfer capabilities for your organization using their performance calculator. With Aspera, they offer advantages for the post-production industry:
Move media hundreds of times faster than TCP, fully utilizing bandwidth regardless of file size or transfer distance
Dependable transfers with auto-resume for partial or failed sends
Enterprise-grade security with SSH authentication, data encryption in transit, and at-rest and data integrity verification
Real-time, centralized control over transfers, nodes, and users, with comprehensive logging and reporting
The Aspera Solution Suite
Aspera offers a complete portfolio of software products built with its patented transfer technology. It enables media and post-production companies to ingest, share, and stream large video, audio, graphics, and other rich media files globally at maximum speed. It addresses all large video and content management challenges including:
Streamlining transfers, encryption, and other media workflows with rules-based automation using Aspera's Orchestrator.
Transmit 4K quality footage over global commodity networks with minimal ramp-up, complete scalability, and significant savings with Aspera's FASPStream software.
Enable remote reporting teams to securely and reliably upload footage from anywhere at speeds hundreds of times faster over Wi-Fi and many times faster over cellular networks with Aspera's Mobile Apps.
Integrate with leading media asset management tools with Aspera's API suite
Learn More About File Transfer Solutions for the Post Production Industry with PacGenesis
With over 10 years of experience helping media companies find file transfer solutions for their needs, our team is here to help you figure out the best service and software for your business. As an IBM Aspera business partner, we've earned IBM's trust to implement their Aspera software for those looking for a reliable and fast file transfer solution. To better identify your high-speed transfer need and set up an evaluation, contact us today. To learn more about PacGenesis, follow @PacGenesis on Facebook, Twitter, and LinkedIn, or visit us at pacgenesis.com.