Top 5 Unique Reasons for Large File Transfers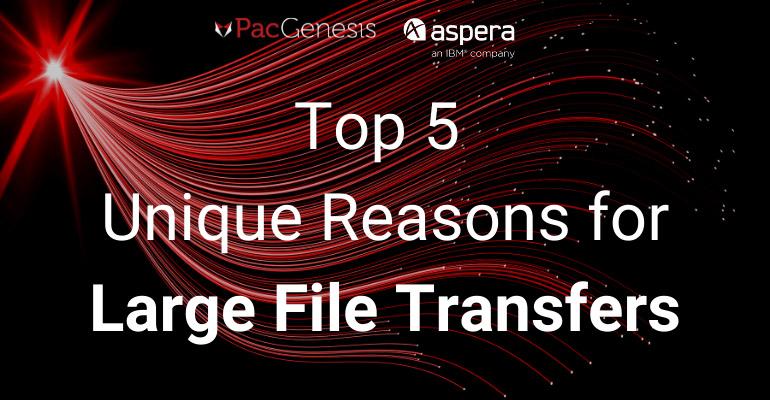 Many industries rely on transferring large files to get any work done. From large media files to photo albums with hundreds of pictures, or collaborators across the globe, there are many reasons that large file transfers happen within a company. Below is a list of the top five reasons that businesses are transferring large files based on the industry they're a part of.
1. Video Production
Whether you are a freelancer, hobbyist video editor, post-production house, or broadcaster, video file sizes are exploding as the demand for higher resolution images grows. A single hour of 4K footage at 30 fps is 22.5 GB while 8K is 36 GB. These file sizes don't seem to be slowing down anytime soon.
Having a file sharing system in place is crucial to collaborating on projects with geographically distant partners and sending raw footage to clients. Not only that, but it needs to be secure, user-friendly, and fast.
2. Photographers
Sharing images is the ultimate end-goal for any photography professional. They need to send work to clients after completing it as early as possible. Sharing photos with clients can get tougher the bigger the file sizes are. Lack of a seamless image sharing capability can cause photographers to lose clients or referral potential.
While sending small photos or few photos may not create an issue, it's the large batches that consist of hundreds of images with high file sizes. For photographers, they need a system that can accommodate file size, security, and transfer speed.
3. Graphic Designers
Graphic designers, web designers, and content managers have found that exchanging large files over email or corporate chat is a big headache. Even if the service providers will allow you to send that much data in one email, it doesn't guarantee that it will be delivered properly or securely.
With multiple files ranging from 20MB to GBs of data, graphic designers and content developers need a file sharing solution that allows for seamless, secure collaboration. They need the ability to send mocks and proofs for several different clients all in one place, and be able to share the files that are relevant to them.
4. Construction
In the construction and building industry, they send files like CAD drawings, 3D renderings, and blueprints. These types of files can seem as large as the structures themselves. Unfortunately, time is money and construction companies rarely have time to send files through email, or to use complicated FTP for file sharing. They want to be sure all files are transferred securely.
Construction firms need a file sharing solution that is fast and efficient with the files and information it shares. They not only need a system with the capabilities of sharing large files, but also backed by top-level security that allows seamless file transfers with building partners.
5. Remote Work
It's no secret that coronavirus has shifted the working environments of many industries — and not just temporarily. File sharing is a major part of everyday work. Many employees find themselves working from home where their internet connection is unreliable and the ease of collaboration can be disrupted. Whether it's frequent timeouts, lack of compatibility with recipients, or restrictions on file size, file sharing has become a headache for many.
It's now more important than ever that your team members are adequately set up to work from home, especially if they are part of an industry that requires sharing large files across platforms. For remote workers, it's important to have a file-sharing system that is fast, reliable, and works well on any network.
Transferring Large Files with Aspera
IBM Aspera helps companies with their large file transfers no matter what industry or file size. Using their transfer software, they offer products that enable companies to ingest, share, and stream all types of files globally at maximum speeds. They are able to:
Streamline transfers, encryption, and other workflows
Transmit live 4K quality footage over global commodity networks with minimal ramp-up, complete scalability, and significant savings
Enable remote reporting teams to securely and reliably upload data from anywhere at hundreds of times faster over Wi-Fi and many times faster with cellular networks
Integrate with leading software providers and media asset management tools
Learn More About Large File Transfer Solutions with PacGenesis
With over 10 years of experience working with multiple industries to find file transfer solutions that fit their needs, our expert team can help you figure out the best software for your business. As an IBM Aspera business partner, we can help implement their software for those looking for a fast, secure, and reliable file transfer solution. To help identify your business needs, contact us today.
To learn more about PacGenesis, follow @PacGenesis on Facebook, Twitter, and LinkedIn, or visit us at pacgenesis.com.