OneDrive for Business File Size Limit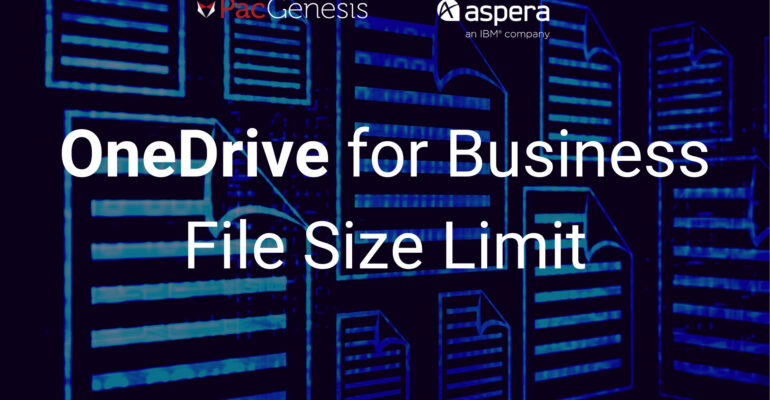 Remote work and learning has increased, which means there is a need to reliably and securely transfer and share large files like 4K or 8K video files, CAD files, or large scientific data sets. In Microsoft 365, businesses can store, sync, and share large files with a limit of 250 GB, which includes upload files into SharePoint, Teams, and OneDrive. To get to this size, they split each file into smaller chunks, encrypting each with a unique key.
How Much Space is 250 GB
With a 250 GB file size limit, businesses can share files like a 3D model of a new building, a client commercial shoot in 8K video, a large dataset for a trial or research project, or large videos for educational projects.
Unfortunately, 250 GB still might not be enough for those who produce a lot of content or data sets. Video files sizes are getting larger as the demand for more high-resolution content increases. Even just an hour of footage at 30 fps, a standard recording speed, for any of these video resolutions can take up quite a bit of that space:
Full HD: 130 MB
4K: 22.5 GB
8K: 36 GB
Even phone video footage has caught up with this demand, the most recent the iPhone ProRes files. A one-minute clip shot in 4K at 30 fps will create a 3GB file. In order to record with ProRes, you have to have an iPhone with a storage limit of 256 GB or more.
How to Overcome OneDrive File Size Limit with Aspera
If your business is looking for a better solution to share large files with colleagues, partners, and clients, Aspera may be the better option for your company. Built on the award-winning IBM FASP protocol, the software can transfer and share files and data of any size across any distance.
IBM supports four common file-share scenarios: on-premises to cloud, cloud to on-premises, on-premises to on-premises, and cloud to cloud. With 35 cloud data centers to store and access data securely, your business can migrate 100 TB of data per day. This level of storage and speed reduces migration windows, lowers migration costs, and reduces the risk for your business.
No matter what industry you're a part of, Aspera can help collaborators across the globe to:
Streamline transfers, encoding, and other workflows
Transmit live 4K quality footage over global commodity networks with minimal ramp-up, complete scalability, and significant savings
Enable remote reporting teams to securely and reliably upload data from anywhere at hundreds of times faster over Wi-Fi and many times faster with cellular networks
Integrate with leading softwares and editing management tools
Learn More About File Transfer Solutions with PacGenesis
With more than 10 years of experience working with different companies in various industries to find file transfer solutions that fit their needs both in cost, security, and capabilities. Our expert team can help your business find the best software for your business. As an IBM Aspera business pattern, we can help implement software for companies looking for a fast, secure, and reliable file transfer solution. Contact us today to help identify your business needs.
To learn more about PacGenesis, follow @PacGenesis on Facebook, Twitter, and LinkedIn, or visit us at pacgenesis.com.