Irdeto's Forensic Watermarking For Mezzanine Content Distribution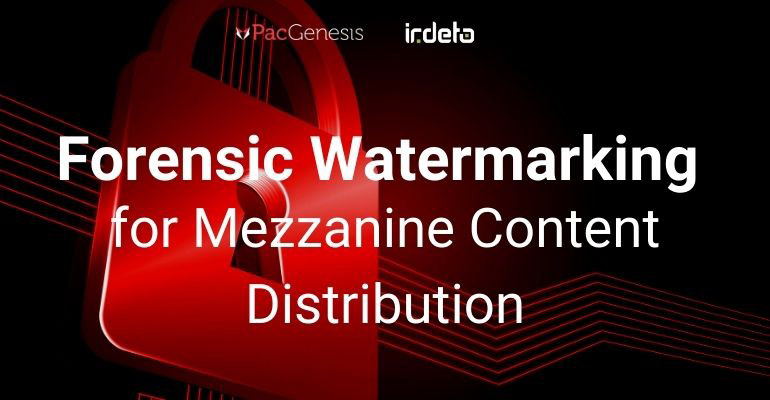 Irdeto's Forensic Watermarking For Mezzanine Content Distribution
Irdeto's TraceMark™ forensic watermarking managed service for mezzanine content distribution which comes pre-integrated with Aspera on Cloud has had some major new features and fixes added over the last few months.
TraceMark Codec Updates
· New HEVC codec support. Irdeto TraceMark for Distribution uses a post-encode watermarking technology in order to simplify integration within customer workflows. The latest release supports forensic watermarking of HEVC/h.265 in Main and Main10 profiles with inter-frame encoding.
· New interlaced AVC/h.264 codec support. Interlaced content with MBAFF coding can now be forensically watermarked with Irdeto TraceMark for Distribution.
· Codec compliance to OpenCable Content Encoding Profiles 3.0 Specification. Watermarked files now satisfy the strict quad byte alignment requirement which supports the large majority of legacy set-top boxes.
· Enhanced MPEG2-TS parsing. Improvements to MPEG2-TS processing that required strict AU payload alignment with PES boundaries for input files are no longer necessary. Irdeto TraceMark is now in full compliance with ITU-T-REC-H.222.0-202106 and ISO/IEC 11172-1:1993.
· Speed improvements for J2K codec. A reworked and more efficient watermark embedding pipeline has resulted in an approximate 50% decrease in processing time for JPEG2000 embedding. The duration of pre-processing for all supported file formats and codecs now takes less time than the original content duration, with the typical range being ~7% file pre-processing time for 1080p h.264 proxy files up to 70% file processing time for ultra-high bitrate 4k HDR J2K content. This pre-processing needs to be done only once per unique input file, regardless of the number of individually watermarked downloads to be generated by the system in the future.
· Consult the Irdeto TraceMark documentation for a full list of supported formats. Any required codecs or codec features that are missing can be added by request.
General Security Enhancements
· Log4j CVE Vulnerability: All Irdeto TraceMark production services were fully protected from this vulnerability by Dec 14, four days after the first warnings began to emerge. Given the worldwide impact of this vulnerability, the Irdeto security team investigated for potential areas of abuse, but none were found. The Irdeto SOC continues to perform proactive security monitoring and security threat detection on an on-going 24/7 basis.
Finally, a new system deployment capability has been added to Irdeto TraceMark for customers that require on-premises support. Irdeto TraceMark for Distribution already supported forensic watermarking from AWS and GCP cloud storage locations. This new deployment option will allow customers to manage their own data centers and distribute content from within their own premises to support Irdeto TraceMark forensic watermarking. It is now possible for direct API users to install on-premise worker nodes using AWS ECS Anywhere and work with local storage. Support is added for a single on-premise backend location per tenant. Further details on the requirements for on-premise worker nodes can be found in the Irdeto TraceMark documentation.

To learn more about PacGenesis, follow @PacGenesis on Facebook, Twitter, and LinkedIn, or visit us at pacgenesis.com.