How to Transfer iPhone ProRes Files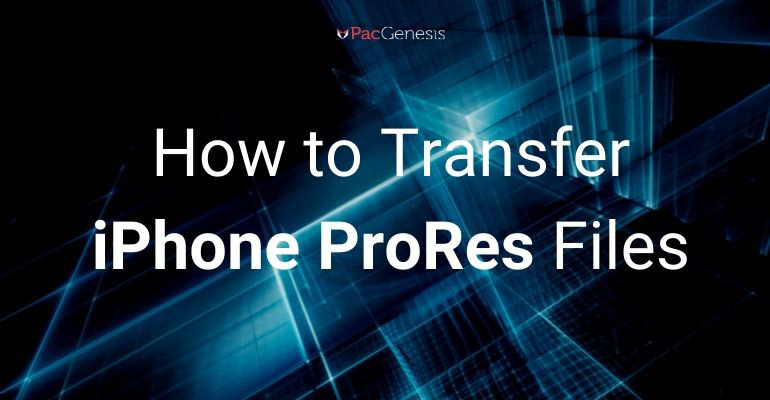 Released with the iPhone 13 Pro and iPhone 13 Pro Max and utilizing iOS 15.1 or later, the Camera app can record videos in Apple ProRes. While a useful capability for post-production professionals and a step towards closing the gap between smartphone and cinema-grade cameras, it can create problems when looking to transfer and share with crucial team members and clients.
ProRes files are large, as a one-minute clip shot in 4K at 30 fps (10bit) will create a 3GB file. Continue to multiply that by the number of minutes you need and you get closer to a 1TB storage limit.
What is ProRes?
Apple ProRes optimizes videos by creating the files with a lower amount of compression compared to more common H.264 and H.265 codecs used on the previous iPhone models. ProRes protects the image quality of the video while allowing for fast encoding and decoding. It can be especially useful for professionals who color grade or use professional editing software. You can also edit Apple ProRes in the Photos app or iMovie for iPhone, and in video editing apps for Mac, iPad, and iPhone that support ProRes.
How to Transfer iPhone ProRes Files
iPhone 13 has the capability to capture color-rich footage, but what does that mean for the file size implications of shooting at high-definition? While Apple has various transfer options within its ecosystem, there are other efficient methods that have the capabilities of delivering the ProRes files faster.
Using Apple Delivery Methods
4K ProRes recording is only available for iPhones with a storage limit of 256 GB or more. If the phone only has 128 GB, then the user is limited to 1080p ProRes recording because of the file size of 4K footage. Someone using ProRes is most likely aware of the size requirements and will transfer files over the desktop or store them in the cloud.
There are various ways to share ProRes videos through Apple:
Use a Lightning Cable and Image Capture on Mac or a compatible application on a Windows PC to import files. Unfortunately, lighting cables are known for being slower than USB-C cables. At USB 2.0 speed, it could take a Lightning Cable up to 30 minutes to transfer a 100 GB file, slowing down production time.
Use iCloud Photos to access the original ProRes video file in full resolution on all your devices. iCloud's storage options are available at 50GB, 200GB, or 2TB plans. With a ProRes file, a single package can exceed iCloud's 50GB max limit, which is a lot of data but is barely anything when it comes to transferring 4K ProRes files.
To transfer from one iPhone to another iPhone, iPad, or Mac, use AirDrop. For Apple users, AirDrop can move files and does not limit the size of the transfers. While there is not enough information on the speed of AirDrop, a longer than normal transfer time is expected. Not only can it cause a delay, but if the person you're sharing with does not have an Apple device or is not nearby, this will not work.
Using a High-Speed File Transfer Software
4K iPhone 13 ProRes files are a game-changer for video professionals, but they easily hit large gigabytes and terabytes numbers that will eat away at the phone and iCloud storage limits. While Apple provides transfer options, they will not be able to meet the needs of filmmakers and professionals that need to shoot cinema-grade footage and edit at a faster work rate. 
To help you quickly and efficiently move large ProRes files, IBM Aspera can help. With industry-leading, patented FASP technology, they provide the fastest, easiest, and most secure large file transfer software. Hundreds of companies use Aspera to transfer video files and achieve their needs, including some of the most prominent studios and clients in the Media and Entertainment industries.
With the Aspera suite of software, your company can:
Streamline transfers and other media workflows
Transmit 4K quality footage over global commodity networks
Enable remote teams to securely and reliably upload footage from anywhere
Deliver footage hundreds of times faster over Wi-Fi and many times faster over cellular networks
Integrate leading media asset management tools with Aspera's APIs
Learn About Transferring ProRes Files with PacGenesis
PacGenesis has over 10 years of experience working with media companies within post-production industries to find file transfer solutions that fit their needs. Our team is here to help you find the best service and software to help your business send and share high-resolution video files to teammates and clients. A distinguished IBM Aspera business partner, we can help implement Aspera software for your business. To help identify your business needs and set up an evaluation, contact us today. 
To learn more about PacGenesis, follow @PacGenesis on Facebook, Twitter, and LinkedIn, or visit us at pacgenesis.com.