How Does Media Shuttle Work?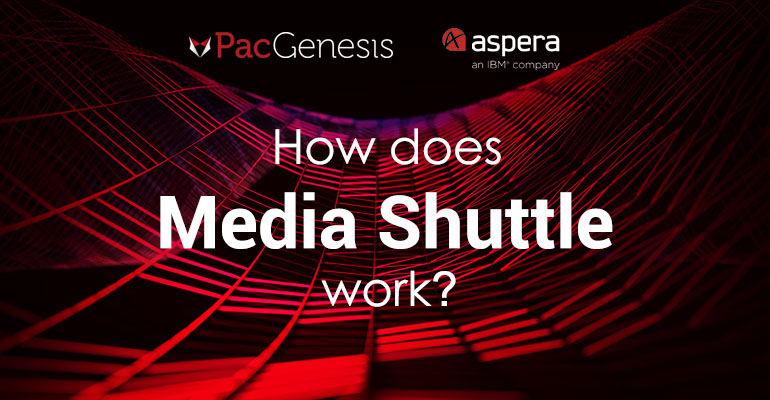 How Does Media Shuttle Work?
Media Shuttle, a Signiant product, is a hybrid SaaS, meaning that part of the system is on-premises, and part is delivered by Signiant from the cloud. This architecture extends and enhances the core transport functionality to create an easy, simple to use solution for businesses to send, share, and submit large files of any size.
If you're looking for a high-speed data transfer solution, it's important to consider all the options. While Signiant is a good product that offers reliable and secure transfers, as industry experts, we've heard a lot from various customers who have switched from Signiant to Aspera. For example, organizations that have adopted Signiant have reported that its user interface is confusing and difficult to learn. They also report that they need to have internal training and tutorials just to teach employees how to use it.
Before making a decision, we want to help your company cover all its bases by educating you on how Media Shuttle and Aspera work.
Send, Share, and Submit Data with Media Shuttle
Within Media Shuttle, there are three types of portals: send, share, and submit.
The send portal allows person-to-person or person-to-people file transfers. To use it, you enter the email address of the recipient, enter your own address, and transfer the file. An email notification will let both recipient and sender know when the file has been sent and downloaded.
The share portal is similar to standard FTP servers and allows a folder structure. Multiple users can organize, browse, upload, and download any files or folders they have permission on. There is also the Send from Share option that enables authorized members to send links to files directly from the share portal.
Submit portals funnel user submissions of content into an aggregation point or as an onramp for automated workflows. This situation is good for aggregated content that needs downstream processing. Users select content for uploading, add a message, and send the content.
Send, Share, and Submit Data with Aspera
Aspera uses its cutting-edge, proprietary FASP technology. It can move large volumes of data and content at maximum speed, regardless of file size, transfer distance, and network conditions. It is up to 100x faster than traditional FTP, and allows for on-premise, off-premise, or in the cloud sharing. With Aspera, it comes with different products that can help your business transfer files quicker and more efficiently.
Aspera On Cloud
IBM Aspera on Cloud (AoC) is a SaaS solution that enables organizations to securely and reliably move large files and data sets across on-premises and hybrid cloud environments at unrivaled speeds. It quickly and reliably sends and shares files and data sets of any size and type, allowing you to collaborate with internal and external users. You'll also be able to access data stored across clouds and data centers and protect it with comprehensive built-in security. With added capabilities for tracking transfers and access of files, along with Workflow Modules built-in, AoC allows for businesses to perfectly share, collaborate and track their data transfers.
Aspera Shares
Aspera Shares is an easy-to-use web application with secure access to a consolidated view of all shared content. It supports direct drag-and-drop transfer between Shares to move files between various locations. This allows content to be deployed across enterprise servers, private, public, and hybrid clouds. The search, filtering, and sorting capabilities make it easy to find files and folders in a large content store.
Aspera Drive
Aspera drive allows users to browse projects and authorized shares remotely from a fully integrated desktop explorer. All the user has to do is drag and drop files or folders to initiate transfers to and from remote Shares.
Aspera Cargo
Aspera Cargo is compatible with Aspera on Cloud and Faspex, and can be configured to automatically download received packages. It can also support multiple, concurrent FASP transfers. You can download the packages to the directory of your choice, as well as decrypt downloaded content with Aspera's Crypt program.
Aspera Faspex
Aspera Faspex is a global person-to-person and ad-hoc project-based file exchange and collaboration feature. It has an easy-to-use, web-based interface, email, mobile, and desktop client interface. It allows users to easily create and manage workgroups for file-based collaboration and has enterprise-scale user management and access control. Aspera Faspex also supports local and remote file sources, both on-premise and cloud.
Learn More About High-Speed Transfer Solutions
Evaluating high-speed file transfer and content streaming solutions is important to any business. We understand you want to conduct your due diligence before choosing an application for your organization. At PacGenesis, we are an IBM Gold Business Partner, and we can help you by explaining the benefits of Aspera to your business, as well as how it stacks up to Signiant and other competing solutions.
If you have questions about Aspera or Signiant, contact us today at (512) 766-8715.
To learn more about PacGenesis, follow @PacGenesis on Facebook, Twitter, and LinkedIn or visit us at pacgenesis.com.