Aspera on Cloud Security Feature – IBMid can now enforce Multi-Factor Authentication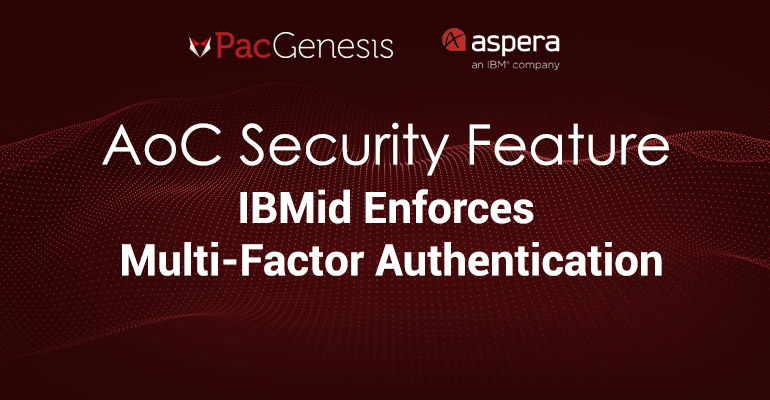 Aspera on Cloud includes IBMid as an authentication mechanism for your organization. IBMid is IBM's identity-as-a-service offering, and no additional configuration is required to use it with your AoC deployment. Some customers opt to use their own authentication provider, such as Google OAuth, or a SAML provider such as Okta, but many continue to use IBMid as one option.
IBMid now supports Multi-Factor Authentication (MFA), and AoC customers can enforce this as a requirement. Once enabled, IBMid users will need to supply an additional factor when logging in: either a verification code sent to their registered email address matching their IBMid, or a one time password from a TOTP client such as Google Authenticator or Authy.
Important Considerations:
Enforcing MFA is all-or-nothing; once enabled, all IBMid users will be required to use MFA
The default second factor for IBMid is an email verification. If TOTP is preferred, each user must change configure it in their IBMid profile
To enable, log in to Aspera on Cloud as an administrator, then choose the Admin app in the app switcher in the upper right. Navigate to Organization → Authentication, then check the box for "Require multifactor authentication" in the IBMid section:
Click Save. The next time an IBMid user logs in, MFA will be enforced.
To learn more about PacGenesis, follow @PacGenesis on Facebook, Twitter, and LinkedIn or visit us at pacgenesis.com.