All About IBM Aspera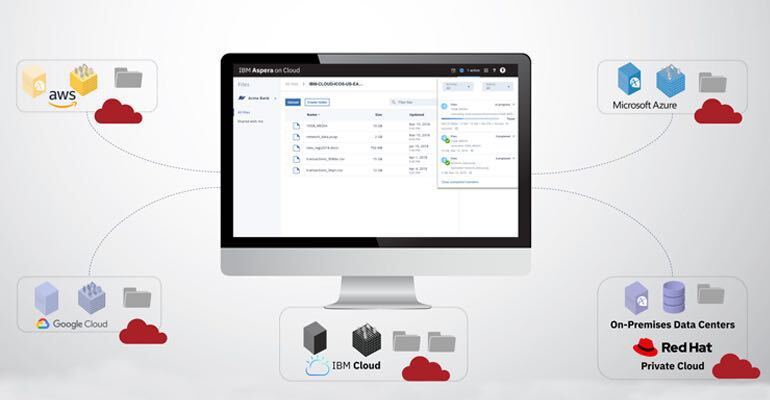 Does your organization need to transfer large files or large quantities of data across the country or around the world? Is your organization currently experiencing productivity-killing delays because of how long it takes to move this data using traditional TCP-based file transfer applications? If so, then you need to keep reading to learn about IBM's Aspera high speed file transfer solutions. This state-of-the-art file transfer application with patented file transferring FASP® technology is helping organizations in a variety of industries move their data as much as 1,000 times faster! Keep reading to learn more.
What is Aspera?
Aspera is the fastest way to move data. Rather than relying on TCP, the solution uses its own proprietary FASP technology to move data faster than any other solution to anywhere in the world.
Aspera software is available in the several deployment models:
Aspera on Cloud SaaS: Quickly move data in public cloud environments using IBM's Aspera SaaS. The service is available in popular regions of IBM Cloud, AWS, Azure, and Google Cloud.
Enterprise Software: Deploy Aspera on physical or virtual servers either on-premises or in your own VPC.
Aspera on Cloud Pak: Containerized version of Aspera on Red Hat OpenShift
Hybrid Deployment: Run Aspera across both on-premises datacenters and in the cloud
How Does it Work?
This server-based software is unlike anything else because of its proprietary file transfer technology. You see, most file transfer services like web browsing and FTP rely on TCP. Unfortunately, TCP was never designed to support global transfers and huge datasets. As you increase the geographic distance, network latency and the chance of packet loss also increases. Both of these factors severely limit the bandwidth utilization of TCP transfers.
Aspera is different. The secret is the patented Fast Adaptive & Secure Protocol (FASP) that fully utilizes your available bandwidth. This allows Aspera to move large files or large data sets faster to any location in the world, independent of latency or network conditions. The net result is Aspera gives you highly efficient, predictable transfer speeds.
Best of yet, Aspera is a software-only solution that doesn't require you to upgrade your network or install hardware appliances. You can use your existing network to quickly move files worldwide, without interrupting other business-critical activities.
Why Should I Use Aspera?
Whether your organization is experiencing bottlenecks with moving its data, you need to scale the amount of data your organization moves, or you want to improve network performance for other important business activities, you should consider using Aspera. The solution can solve all of these problems, and make it faster and easier for you to get your organizations' data where it needs to go, exactly when you need it to be transferred.
Who Uses Aspera?
Organizations from a wide variety of industries, including media and entertainment, life sciences, legal, retail, financial services, and more rely on Aspera to move their data at maximum speed. Here's a small sampling of Aspera Connect customers:
Fox Sports, who used Aspera Connect at the 2018 FIFA World Cup in order to broadcast this popular live event worldwide.
GigaScience, an open-access life sciences journal, used the solution to make research data more accessible to the life sciences community.
Netflix, who relies on Aspera Connect to transfer data to its Amazon Web Services S3 Storage in order to provide the best in high-speed media streaming.
Deluxe Digital Studios – the entertainment company that creates and localizes media – uses this solution to expand its capacity, reduce the length of its production cycles, and improve overall service.
The world's largest brewer Anheuser-Busch InBev used Aspera Connect to migrate data into its information systems.
Media marketing company Trailer Park, who uses the solution to send and receive content from their customers at lightning speed.
DirecTV Latin America, who relies on Aspera to transfer data at rapid speeds and reduce their need for tapes.
How Do I Install Aspera?
As an IBM Gold Business Partner, we provide an automated solution for both installing and configuring Aspera in your organization's environment. We're happy to help. For information on installation and pricing, reach out to us today by emailing sales@pacgenesis.com or filling out our online contact form.