Why Do Companies Conduct Cybersecurity Risk Assessments?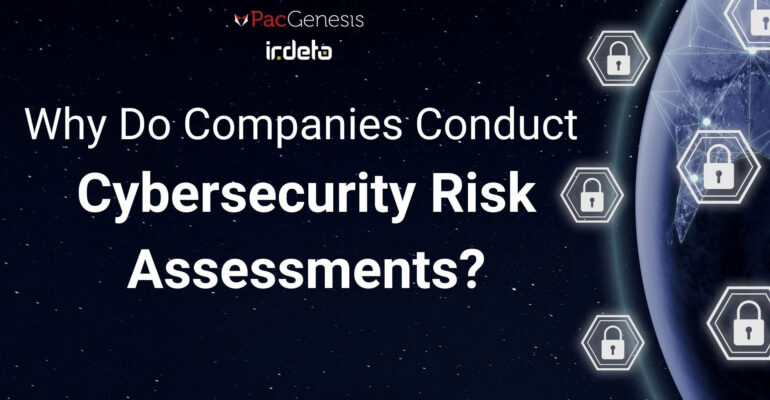 Why Do Companies Conduct Cybersecurity Risk Assessments?
Cybercrime has become one of the largest threats to industries, especially in the digital age. Cybercriminals have sophisticated technology and techniques to get around security measures, which is why it's important to perform regular cybersecurity risk assessments.
A cybersecurity risk assessment is used to determine the chances of an attack against a company and the potential impact a cyberattack could have on its reputation, finances, and business health. It also helps your business understand and plan to prevent attacks on your organization.
Companies conduct risk assessments for a number of reasons, including:
Acquisitions, divestment, and integrations
Compliance with standards like GLBBA, SOX, HIPAA, or CMMC
Before and after changing major systems
Benefits of Conducting a Cybersecurity Risk Assessment
As technology continues to evolve and change, companies should aim to undergo regular cyber risk assessments. A risk assessment enables you to make informed business decisions by highlighting potential issues and revealing priorities for which areas to improve first. Protecting your organization is the biggest benefit of conducting regular assessments, but there are many others, as well.
1. Get Security Documentation
After a cybersecurity risk assessment, you'll receive a report that documents the current state of your security and any relevant risks. This documentation can help track quantitative progress every year as you close gaps and develop a security program. Keeping a record also indicates to potential clients and investors that you are investing in the security of your company and all parties' information.
2. Ensure You Meet Compliance Regulations
Depending on what industry your business is part of and the types of data you store, your organization could be subject to certain compliance requirements. Education institutions must abide by FERPA and healthcare organizations are subject to HIPAA.
3. View an Actionable, Prioritized List of Risks
Risk assessments not only reveal the most critical cybersecurity risks, but a cybersecurity expert will also prioritize those risks so that your business can take action immediately. The risk assessment process will help you gain insights and tools to create an informed plan for risk mitigation.

4. Understand Your Ability to Address a Security Threat
Businesses must consider and confront even non-malicious threats to their business. Risk assessment specialists have the resources and experience to find vulnerabilities that you may not have thought to look like technical vulnerabilities, inconsistencies in governance, compliance gaps, vendor risks, and the human element of security.
Protect Your Business with Irdeto
Businesses must invest in cybersecurity expertise to ensure that their investments and intellectual property are protected. Irdeto has developed a suite of Cyber Services that help companies identify, investigate, analyze, shut down, and prosecute threat actors. The Irdeto Cyber Services provides comprehensive brand protection, investigations and enforcement, threat risk assessment and intelligence, and advanced protected services.
As part of the Cyber Services, key benefits include:
Brand Protection
Investigations and Enforcement
Threat Risk Assessment and Intelligence
360-Degree Security
Customized Services
Global Network of Partners
Building on over 50 years of expertise in security, Irdeto's services and solutions protect revenue, enable growth, and fight cybercrime.
Ask PacGenesis About Irdeto
By partnering with Irdeto, we help major brands in video entertainment, video games, connected transport, connected health, and IoT industries protect themselves from cybercrime. With over 10 years of experience working with businesses on all their cybersecurity needs, our deep expertise allows us to work closely with clients to design and implement solutions that help protect your business. Contact us today to learn more about the importance of cybersecurity in your business or how Irdeto can help.
To learn more about PacGenesis, follow @PacGenesis on Facebook, Twitter, and LinkedIn, or go to www.pacgenesis.com.