Trend Micro Cloud One Suite of Offerings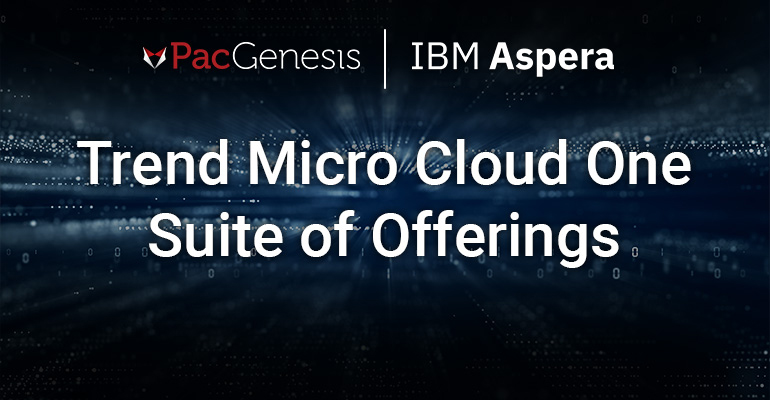 Trend Micro Cloud One Suite of Offerings
Security in the cloud is crucial to any company looking to keep its applications and data protected from cyber threats. Maintaining a strong cloud security posture helps organizations achieve their business goals while staying compliant.
Trend Micro Cloud One is an automated, flexible, all-in-one security services platform that provides security across a broad volume of services. It helps customers achieve their cloud security objectives, optimizing their migration, cloud-native application development, and cloud operational excellence and compliance.
This platform was designed to meet the needs of cloud and security teams, saving time while gaining complete visibility and control through integrated cloud-native application protection platform capabilities. With its turn-key integrations, broad APIs, and powerful CNAPP, your company will be able to procure the services you want, the way you want, and deploy them the way you need.
Automate Security to Protect Your Business
Secure your cloud infrastructure with clarity and simplicity using the broadest and deepest cloud security services delivered in a single platform. Trend Micro Cloud One solves your top security concerns, providing solutions for Cloud Migration, Cloud-Native Applications, and Cloud Operational Excellence:
Detect and protect against vulnerabilities, malware, and unauthorized change with the broadest hybrid cloud security capabilities. Automatically protect new and existing workloads, even against unknown threats, with techniques like machine learning and virtual patching.
Gain central visibility and real-time monitoring of your cloud infrastructure with a single, multi-cloud dashboard. Auto-check against nearly 1,000 cloud service configuration best practices and view your risk status with step-by-step guides or auto-remediation.
Maintain data sovereignty with files being scanned without leaving your cloud storage. Take advantage of faster-automated malware scanning via the latest file reputation and variant protection technologies, backed by leading threat research.
Powerful network layer security, integrated into the cloud network fabric, allows you to inspect ingress and egress traffic. Going beyond traditional intrusion prevention system capabilities, it includes virtual patching and post-compromise detection and disruption as part of a powerful hybrid cloud security platform.
Implement container image scanning earlier in your build pipeline, scanning new images as they're built and providing continuous zero-day protection after images are published. Automate scanning and response, as well as provide feedback to developers about the presence of threats and vulnerabilities.
Protect applications built on dedicated servers, VMs, containers, cloud workloads, and serverless platforms. Minimize design and deployment risks, and remove the security maintenance burden by protecting against sophisticated hacks from the inside.
Empower security operations teams to identify open source vulnerabilities and license risks across application components for enhanced visibility. Surface rich intelligence about indirect dependencies that are impacting your software bill of materials and security.
PacGenesis Partners with Trend Micro
Providing customers with cybersecurity and file transfer solutions for over 10 years, we partner with industry-leading businesses to help implement solutions at your company. We've partnered with Trend Micro because of their security suite and its ability to integrate into the overall file transfer ecosystem. For our clients that use Aspera as a file and data transfer solution, this serves as a benefit to help protect their files and company information. If you are looking for a file transfer solution or File Storage Security, contact us today to see if Aspera or Trend Micro are right for your workflows.