PacGenesis Announced as a 2022 IBM Champion Award Winner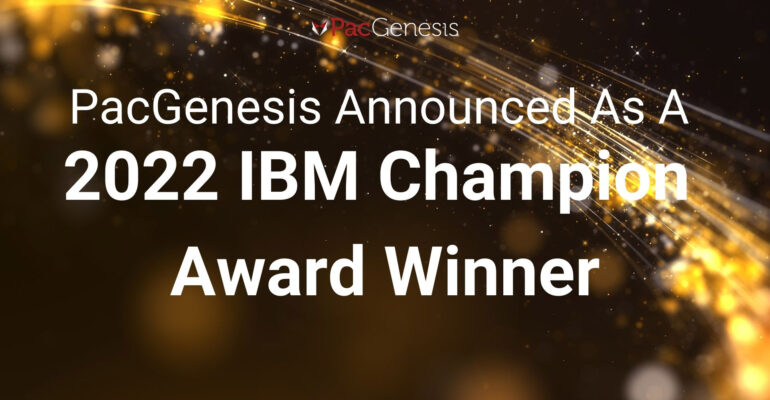 PacGenesis Announced as a 2022 IBM Champion Award Winner
Austin, TX, April 15, 2022 – PacGenesis is excited to announce they have won the IBM Champion Award for 2022, a program that recognizes innovative leaders in the technical community.
"I am honored to be awarded as an IBM Champion for 2022," says Dipak Chocha, EVP, Sales & Business Development. "It's a significant achievement and a testament to the value we bring to our clients and to IBM."
IBM Champions support the success of IBM products by offering feedback from the front lines and technical ideas from the cutting edge. They nurture and support technical communities by running user groups and conferences, writing blogs and articles, contributing code and content to forums, and speaking at conferences.
PacGenesis has continuously contributed to the body of knowledge around IBM products and offerings and to the technical community. In addition, PacGenesis, as an IBM Gold Business Partner and Aspera specialist, helps professionals implement IBM Aspera within their companies to improve file transfer and collaboration processes.
PacGenesis was selected as an IBM Champion by a panel of judges who recognized Dipak Chocha's contribution to IBM products and offerings, as well as the technical community. As IBM quotes on their official Champions page, "IBM Champions are a community of external experts across IBM offerings and around the world who are recognized by IBM for their extraordinary expertise and contributions to the technical community."
Media Contact
Company Name: PacGenesis
Contact Person: Scott Pecnik
Email: sales@pacgenesis.com
Address:2028 E Ben White Blvd #240-3775
City: Austin
State: TX 78741
Country: United States

To learn more about PacGenesis, follow @PacGenesis on Facebook, Twitter, and LinkedIn, or visit pacgenesis.com.