How to Transfer A Large File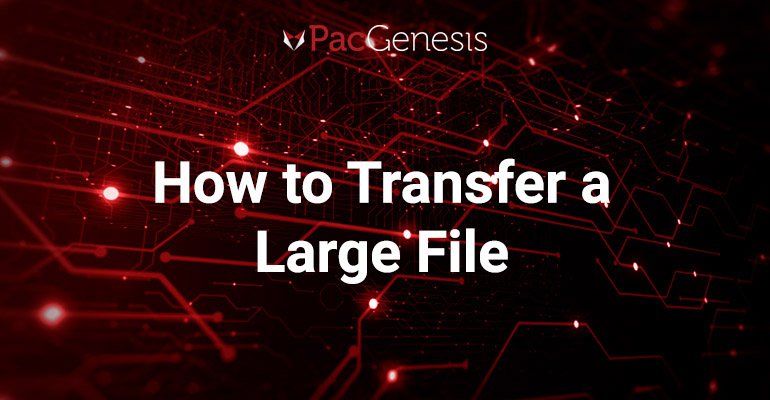 It can be rather frustrating when you try to send large files like video or data through email only to receive an error message that the file is too large. Unfortunately, email accounts can't carry as much storage as you would like to think. For example, Gmail can only hold files up to 25 MB. Large files can also take up a lot of storage space, even just sitting in your Sent folder.
To collaborate with teams or partners effectively, your business needs the freedom to access the data and content they need when they need it. Your organization needs a secure, fast, and reliable way to send files to your colleagues, vendors or customers. With a software solution like IBM Aspera, you can move data of any size across any distance.
How to Transfer a Large File Using Aspera
Aspera is one of the most secure services on the market, built on an award-winning FASP protocol. Built by IBM, it is used in various industries from media and entertainment to banking and finances.
This fast alternative to FTP server software helps you transfer and deliver files, eliminating the bottlenecks and risks associated with decades-old technology. Your business can move the largest files and data sets at maximum speed, regardless of the distance. Aspera uses available bandwidth without impacting other business-critical network traffic. With Aspera, you can:
Transfer Files and Collaborate with Stakeholders
As businesses become more global and move more data into cloud applications, your business needs a way to send large files and data — no matter the size — to your collaborators securely. With IBM Aspera, you can deliver and distribute any size or volume of data both rapidly and securely. It offers you a fast and robust delivery solution, enabling you to send your files to customers, partners, employees, and systems no matter where they're located. You can see the difference by using our File Transfer Calculator.
Transfer Any Type of Files at Any Size
No matter what industry your business operates within, Aspera moves at maximum speed for virtually all your business needs:
High-speed sharing of design files and source code synchronization
Collaborate on large genomic data and medical images
Faster capture and high-performance computing analysis
Transfer rich digital media and purchase data
Real-time content streaming
Send studies and inspections videos
The Benefits of Using Aspera for File Transfer
On top of being the world's fastest file transfer system, IBM Aspera's hosted service allows you to transfer, exchange, and deliver data from any location to anyone. Leveraging blockchain technology to add extra layers of security, IBM Aspera also:
Delivers speeds up to hundreds of times faster than FTP and HTTP
Sends data of any size and virtually unlimited bitrate video
Migrates and transfers 100 TB of data per day
Learn More About Aspera from PacGenesis
If you want to learn more about how your organization can quickly transfer large files and data using Aspera, consider contacting our team at PacGenesis. We are an IBM Gold-status partner with over 10 years of experience helping organizations adopt new file transfer solutions like Aspera. We can help your business by answering any questions or concerns you may have related to large file transfer capabilities. Reach out to us and ask us any questions you have about utilizing Aspera in your business!
To learn more about PacGenesis, follow @PacGenesis on Facebook, Twitter, and LinkedIn, or contact us at pacgenesis.com.