Aspera Faspex and Extending Capabilities with Aspera HTTP for File Transfer Services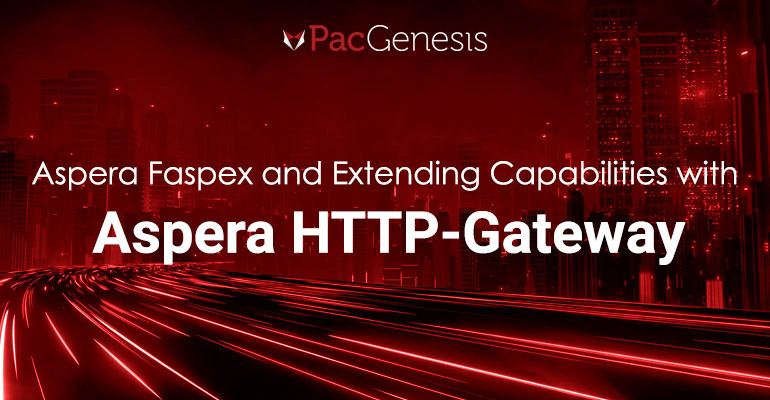 Aspera Faspex and Extending Capabilities with Aspera HTTP for File Transfer Services
IBM Aspera software moves data of any size across any distance with fast file transfer and streaming solutions, built on their award-winning IBM FASP protocol. Aspera allows businesses to securely transfer data anywhere:
Big data transport and sync
Large-file sending and sharing
Transfer automation and management
Any-bit rate streaming
Hybrid cloud workflows
Secure asset exchange
Aspera Faspex and the Aspera HTTP-Gateway are both products offered through IBM Aspera software, included in the new IBM Aspera Enterprise offering. While both of these products enable your business to share content and files of any size, within the organization or with external partners, how they can work independently and together can significantly benefit your business processes.
About IBM Aspera Faspex
IBM Aspera Faspex is a web application that provides a simple and intuitive way for companies to share content in the form of files and directories, enabling them to send ad hoc packages to users and groups. It is accessible from a standard web browser and provides a secure way to send digital packages to end-users or distribution groups, triggering email notifications for download.
With Aspera Faspex, companies have flexibility as to where they can place their digital package storage, whether that be in a data center, remote office, or cloud storage. It allows users to move files between globally distributed locations with ease and speed, hiding the physical location from the end-user. Faspex also allows for an intuitive way to allow your partners to submit content or sensitive data back to your organization and even collect metadata on the assets they submit.
Some of the key features include:
Global digital data delivery and exchange using a standard browser, desktop integration with Aspera Drive client, or mobile devices
Support for public/hybrid cloud storage, or legacy data centers
Drop boxes for ad hoc content submission from 3rd parties with email invitation and notification
Built-in server, user, workgroup, and package management for easy administration
Custom programmatic integrations via a command-line tool or a Web Services API
About IBM Aspera HTTP-Gateway
IBM Aspera HTTP Gateway is a web service that can be deployed on-premise or in the cloud. While Aspera Faspex is a web application in itself, Aspera HTTP Gateway is a web service that converts an HTTPS transfer to a FASP transfer in memory with no storage required. This is extremely beneficial for companies with users that are unable to or do not want to install and use an Aspera Connect client. The gateway allows them to upload and download content from an Aspera server using standard web browsers upload/download functionality.
Aspera HTTP-Gateway acts transparently between a modern web browser and any Aspera HSTS server. It leverages native HTTPS transfer capabilities in the web browser in order to perform a transfer. When using the gateway, users will not have to install any kind of third-party software like Aspera Connect. Ideally, the Gateway is located closer to the user set that requires this, as the Aspera FASP protocol is leveraged for the long haul transfer between the gateway and the HSTS server, but the short-haul being HTTPS, distance of transfer can be crucial.
Some of the key features include:
The ability to download a single file with just the web browser's download manager
Download a package from FASP with one or multiple files
Preserve the directory structure
Upload one or multiple files while showing the progress in the Web UI
Monitor and manage HTTP Gateway-based transfers while still maintaining fine-grain control
Supports filename obfuscations and encryption-at-rest
Enabled out of the box with Aspera Faspex and Aspera on Cloud
To learn more about Aspera's latest solution, the HTTP Gateway, check out our exclusive Aspera HTTP webinar where we speak with Stephane Blanchard, Head of Engineering at IBM Aspera.
Faspex + HTTP-Gateway
Aspera Faspex has become the standard for file delivery across many different industries and seamlessly being able to collaborate with internal and external users and organizations. Faspex has traditionally required all users to install and run the Aspera Connect client on the user side in order to enable any transfers. With the evolution of Aspera HTTP-Gateway, organizations can now enable users to have the flexibility to leverage transfers with or without Connect on their machines. This also enables many different capabilities for transfer and access via standard browsers on mobile devices without needing an additional mobile application enabled. When deployed strategically across your user base locations, HTTP-Gateway can enable identical speeds to connect and full-scale FASP transfers while enabling the conversion of HTTPS to FASP traffic in memory.
Ask PacGenesis Your Aspera Questions
If you'd like to learn more about Aspera Shares or Aspera HTTP, consider reaching out to the team at PacGenesis! At PacGenesis, we are an IBM Gold-status Partner and we've made it a top priority to help organizations adopt new file transfer solutions such as Aspera. With over 10 years of experience, we're certain that we can help your business with any questions or concerns relating to file transfer capabilities.
To learn more about PacGenesis, follow @PacGenesis on Facebook, Twitter, and LinkedIn, or contact us at pacgenesis.com.