Forensic Watermarking for Pay-TV Operators and Direct-to-Consumer Services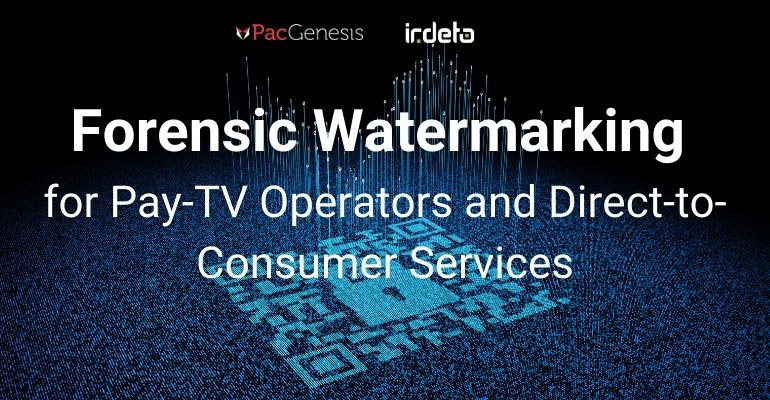 Forensic Watermarking for Pay-TV Operators and Direct-to-Consumer Services
Commercial piracy is a growing problem for pay-TV operators and direct-to-consumer services, especially for those in premium VOD and live sports. Pirated content can easily be promoted, distributed, and illicitly streamed over the internet. Content can be stolen at any point, including during production, post-production, promotion, distribution, and consumption.
Being able to mark content to help determine the source of a content leak quickly and efficiently is key to effective anti-piracy action. Pay-TV and direct-to-consumer operations need a forensic watermarking solution that supports security requirements and actively fights against illicit content sharing to ensure maximum monetization of premium content.
What Pay-TV Operators and Direct-to-Consumer Services Should Look for in a Forensic Watermarking Solution
Forensic watermarking is an imperceptible embedding of information directly within video content that helps identify the source or intended recipient of the content. Pay-TV operators and direct-to-consumer services need a solution that supports them, covering linear broadcast TV, live streaming, and VOD. They should be able to effectively secure content while ensuring maximum viewer experience.
No impact to picture quality
The unique, invisible mark embedded into the content is undetectable by viewers. This helps best protect content without impacting the video experience.
Persistent watermark
Forensic watermarking should survive any pirate transformation, and it should be easy to renew if a breach occurs.
Trusted solutions
Given the incremental growth of digital content, content owners should recognize the value of ensuring robust security to safeguard valuable revenue and brand reputation. This means finding a solution that can guarantee content protection.
Irdeto Offers Forensic Watermarking for Pay-TV Operators and Direct-to-Consumer Services
Irdeto TraceMark is a cloud-based managed service that embeds invisible, unique forensic watermarks in every content piece that identifies the content distribution channel. Fully automated, it watermarks a wide range of assets in a centralized, consistent way that replaces disparate visual marketing methods and manual workflows.
Irdeto's forensic watermarking can be combined with other products to help seize the new opportunities of OTT to protect broadcast businesses from online threats.
End-to-end content security
Irdeto has worked closely with Hollywood studios and sports rights holders to ensure customers meet some of the most stringent security requirements. TraceMark can be combined with Online Piracy Detection services to detect the unauthorized distribution of content. It can also be combined with Irdeto's Cyber Investigation and Enforcement service to gather evidence of piracy, internal fraud, theft, and cybercrimes to support enforcement activities to mitigate these threats.
Launch with ease
Irdeto has a range of solutions and services that will smooth the journey into the world of OTT. Secure high-value content for every consumer device with TraceMark forensic watermarking and Irdeto Control, the fully-featured multi-DRM solution that is ready for rapid launch and scales with your business to handle the highest peaks in traffic. It can also automate operational workflows of preparing video and metadata with Irdeto Media Manager.
Protect Your Content with PacGenesis
PacGenesis helps businesses like yours protect their content from pirates by offering secure solutions like Irdeto TraceMark. As a verified partner, we specialize in Irdeto TraceMark and provide guidance and education to get your company quickly ramped up. We have over 10 years of experience working with a variety of companies in many industries, including well-known brands. Contact us today to discuss forensic watermarking solutions and other content security needs.

 To learn more about PacGenesis, follow @PacGenesis on Facebook, Twitter, and LinkedIn, or visit us at pacgenesis.com.