File Transfer Solutions for the Media Delivery Industry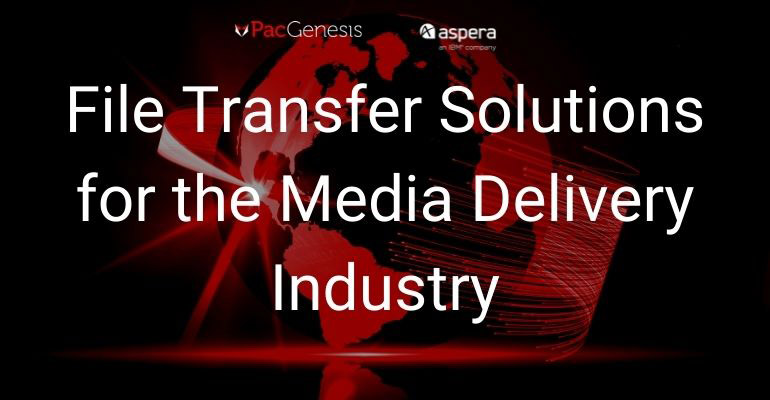 In the media delivery industry, the need to deliver the highest quality media at scale is crucial. From 4K to 8K and live streaming, the media delivery industry continues to evolve. Media professionals and companies typically receive and deliver several terabytes of data per day. The ability to move massive volumes of rich media across global production teams and channels at high speed has never been more important.
The Problems the Media Delivery Industry Faces
As a deadline-driven environment, media businesses need a platform that sends and receives files quickly, easily, and securely. Many media companies currently use costly satellite transmissions, dedicated fiber infrastructure, or alternative IP-based solutions that offer low quality and high latency. These tend to be prohibitively expensive, or slow solutions that cannot work well with the media and content being created. Because of this, production teams have to wait until files are transferred over the network, which is not ideal and can risk quality.
Instead, companies in the media delivery industry need a transfer solution that is reliable, simple to use, enables on-time deliveries, and is easy to use no matter where in the world the senders and receivers are located.
Using Aspera for the Media Delivery Industry
For professionals in the media delivery industry, Aspera can help send and receive large video and audio files at record speeds, no matter where in the world. It offers a complete portfolio of software products built using Aspera's FASP transfer technology. It enables media companies to ingest, share, send, and stream large video, audio, graphics, and other media files globally with built-in security and reliability. With Aspera, companies have the advantage of:
Moving media hundreds of times faster than TCP by fully utilizing bandwidth, no matter the file size or transfer distance
Relying on dependable transfers with auto-resume for partial or failed sends
Utilizing enterprise-grade security with SSH authentication, data encryption in transit and at rest, and data integrity verification
Real-time, centralized control over transfers, nodes, and users, with comprehensive logging and reporting
PacGenesis Offers File Transfer Solutions for Media Delivery Industry
PacGenesis has over 10 years of experience providing media delivery companies transfer solutions, including with Aspera's revolutionary high-speed suite of software. With our team, we'll help your company offer its best service to consumers and clients by providing you with an efficient solution and software. To better identify your file transfer needs, set up an evaluation with us today. We'll find out what it is you need in software and match you with the best option that we provide. 

To learn more about PacGenesis, follow @PacGenesis on Facebook, Twitter, and LinkedIn, or visit us at pacgenesis.com.