What is the Maximum Speed of an Aspera Transfer?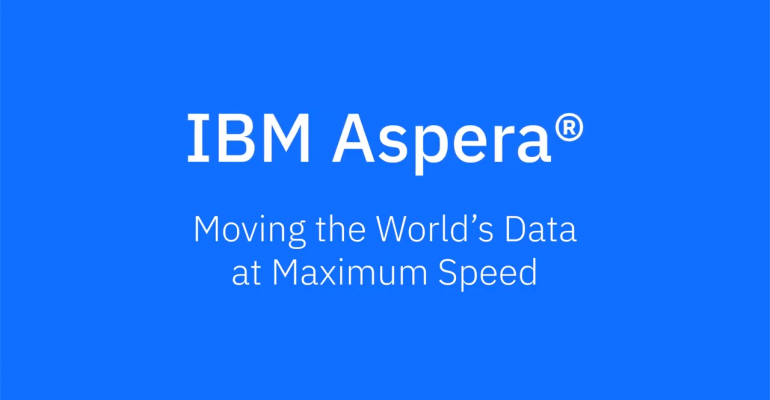 Do you need to transfer files really quickly, as in, as quickly as possible? Do you need to send those files, which may be very large, around the world using wireless connections or satellites? If so, you need IBM's Aspera, which uses patented FASP™ technology, which moves files up to 100X faster than FTP.
Just how fast can Aspera move your files across the globe? Here are a few file transfer characteristics for you to consider.
When We Say Aspera is Fast, We Mean It!
Here are some sample scenarios that give you an idea of just how quickly Aspera transfers files across the globe:
| | |
| --- | --- |
| Scenario | Aspera Result |
| Gigabit WANs with 1 milli-second RTT and 5% packet loss | Aspera can transfer files as quickly as 800 Mbps on high-end PCs with RAID-0. On commodity PCs, Aspera can transfer files as quickly as 500 Mbps. |
| You're experiencing extreme packet loss and latency (30%/1 RTT) | Aspera can still transfer files quickly, as fast as 100+ Mbps on WAN transfers. It can also fill a satellite transponder. |
Aspera is Fast and Flexible
One of the greatest things about Aspera is that it transfers files quickly whether you're moving one very large file, or multiple smaller files that add up to a large file size. It's a robust, flexible solution that works however you need it to. Additionally, Aspera will most likely work just fine with the hardware you already have. Most customers don't need to make hardware investments in order to get Aspera up and running on their public and private IP networks.
Calculate Just How Fast Aspera Can Move Your Files
We know that you love data, and so does IBM. That's why they created an Aspera File Transfer Calculator so you can see just how fast one of your average file transfers would take if you were using Aspera instead of FTP, HTTP, or Windows CIFS. To use the calculator, simply click here and enter in your:
File size.
Network bandwidth.
Transfer locations (start and finish).
Latency.
Packet loss.
By entering in this information, IBM's Aspera File Transfer Calculator will show you just how fast it can send your sample file!
Maintain Bandwidth Control as You Transfer Files at Record Speeds
Aspera doesn't just transfer files faster than any other solution on the market, it does so while keeping you in control throughout the entire file transfer process. With Aspera, you have:
Precise rate control so you have guaranteed transfer times. This can be pre-set or adjusted on the fly.
Automatic adaptive rate control. This means that Aspera fully utilizes the available bandwidth on your network at any given point in time, while still being fair to other network traffic that needs to go through while files are being transferred.
Quick discovery of bandwidth capacity between your source location and your destination for all file transfers.
The ability to configure bandwidth sharing policies on the fly. Aspera knows that things can change quickly in your organization, and makes it easy and fast for you to adapt to those changes whenever you need to.
Transfer Files Quickly Without Sacrificing Any Security Features
We know that while you need to transfer files quickly, you can't afford to sacrifice security in the process. And with Aspera, you don't need to.
Aspera's built-in security features include:
Standard cryptography for user authentication.
Data encryption to keep your files safe during transmission.
Data integrity verification.
Learn More About How Aspera Can Help Your Organization
As an IBM Gold Business Partner, we're Aspera experts. We're here to help you as you evaluate this high-speed file transfer solution to determine if it's the best choice for your organization to transfer files quickly around the globe. To reach us to discuss your unique business needs and how Aspera can meet them, email us at sales@pacgenesis.com or fill out our online contact form to schedule a call with one of our Aspera experts.