Aspera vs FTP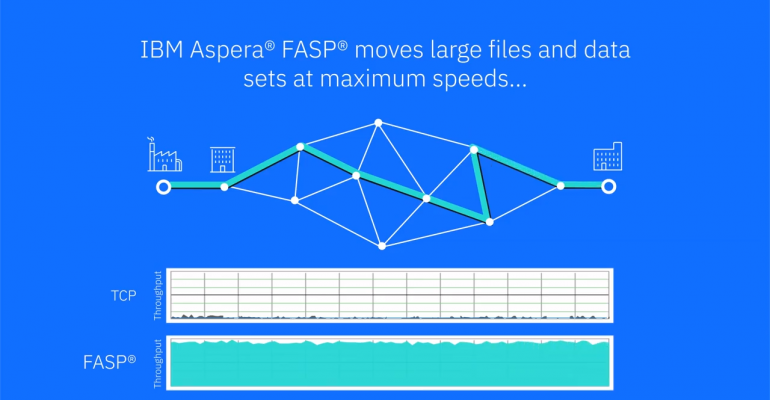 Introduction
In today's age of technology, businesses across a number of industries face the challenge of moving large files and sets of data quickly, reliably, and securely. Failing to meet these challenges can lead to the organizations' inability to meet business imperatives that result in increased revenue, reduced costs, improved customer service, and new and improved business models.
As the size and volume of these files continue to expand and permeate more business processes, the speed that data moves over the WAN becomes more important. In trying to find a better data transfer solution for your company, you may be wondering whether IBM Aspera is really better than using standard FTP software to transfer your files. IBM Aspera is actually a faster alternative to FTP server software to reliably and securely transfer files.
Aspera as an FTP Alternative
FTP is one of the oldest protocols in use today. While it is a useful tool for moving information from the computer you're working on to the server where a website is hosted, many companies find that it does not offer the speed or reliability, let alone the security that they need to safely transfer their assets.
This is where Aspera comes into play.
Using its proprietary FASP® technology to deliver data, Aspera eliminates bottlenecks and risks associated with the outdated technology. It moves file sets at maximum speed by fully utilizing the available bandwidth. Aspera's unique adaptive rate control delivers higher performance than FTP without impacting business network traffic. Instead, it shares the bandwidth to accommodate existing FTP, web browsing, and other TCP traffic.
The Benefits of IBM Aspera
With Aspera, you get many benefits that standard FTP software cannot offer, including:
Speed: According to Aspera, if you have a file that is 10 Gbps, what normally takes anywhere from 10-20 hours with FTP software in the US only takes 8.4 seconds with Aspera. Also according to Aspera, it is not possible to use standard FTP to move a 10 Gbps from the US to Asia, but it only takes 8.4 seconds with Aspera on a typical 100 Mbps line.
Adaptability: Because Aspera uses the available bandwidth, it doesn't do so at the expense of other network traffic. It's patented adaptive rate control adjusts the transfer rate on-the-fly in response to other traffic. The policy engine ensures the right users are obtaining the right upload priority. Even during periods of extreme network congestion, the rate control makes sure there is a timely acquisition and distribution of high-priority files.
Security: Included in IBM Aspera's software and services, their patented FASP® protocol offers built-in security for data transfers using the AES encryption standard via the open-source OpenSSL toolkit. Aspera also provides secure authentication of the transfer endpoints, on-the-fly encryption, and integrity verification for each transmitted datagram.
IBM Aspera allows you to securely transfer your data anywhere. It offers a complete portfolio of software products and technologies that provides any organization from a wide variety of industries with the highest level of performance for every file transfer and use case. With Aspera, you can collaborate, distribute, automate, share, synchronize, stream, and migrate your data and files.
Introducing PacGenesis
PacGenesis is an IBM Gold Business Partner helping businesses focus on scalable data transfer and workflow solutions for their needs. As a gold partner, we can help you better understand IBM Aspera with a deeper look at how this solution can help your business. Contact us today for a consultation.