The Benefits of Irdeto vs Verimatrix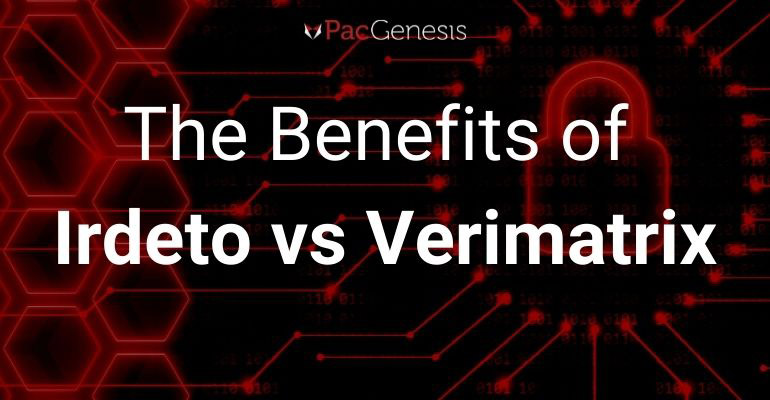 The Benefits of Irdeto vs Verimatrix
In today's business world, the internet overlaps with communication, entertainment, and collaboration. As more companies move to virtual, work-from-home environments, the digital world has expanded. While the ability to share content and collaborate with one another has become a convenience, it also raises the concern of online data security.
However, companies can take some effective measures to secure their digital data and content with digital security from partners like Verimatrix and Irdeto.
About Verimatrix
Verimatrix helps protect content, applications, and devices in industries like live streaming, broadcast, Internet of Things (Iot), healthcare, and financial services. They offer content protection using authentication, embedded DRM, and watermarking. The content is encoded, packaged, and encrypted a minimum number of times, and then decryption keys and playback policies are distributed separately.
With their services, businesses can:
Enable content acquisition and content access
Protect content across the distribution chain
Use rights controls that allow managing distribution windows and DRM policy enforcements
Track consumption patterns and contract compliance with transparent viewer analytics
About Irdeto
Irdeto has experience protecting digital content from different industries like video entertainment, video games, connected transport, connected health, and the IoT for more than 50 years. Irdeto provides modernized content security protection through digital rights management security enabled through enhanced HLS protection.
Recommended by some of the largest entertainment companies in the world, its management of encryption keys provides the needed security measures to effectively minimize the threat of cyber attacks. With Irdeto, your business gets:
Team of investigators, legal specialists, law enforcement specialists, cryptography experts, forensic analysts, and more to help eliminate and prosecute any threats
Web crawling, human analysis, effective compliance, and professional reporting to enforce and remove any infringing advertisements
Expert analyst interaction with automated tools to detect and gather data on a wide range of threats in the open, deep, and dark web
Cybersecurity experts, pen-testers, and reverse engineers that help perform target security assessments on cloud, web, and mobile apps or hardware
Continuous monitoring for threats, verified breach response, platform integration restoration, rapid disruption of pirates' revenue streams, and more
On top of that, files can be watermarked from IBM Aspera on cloud management interface using Irdeto TraceMark. The fully automated solution watermarks a wide range of assets in a centralized and consistent way, replacing legacy visual marking methods and manual workflows. Through Aspera, content is then delivered as an individually watermarked asset to any number of recipients. Using the simple RESTful control APIs, you can also integrate Irdeto TraceMark with your existing content management systems for additional control and reporting.
Learn More About Irdeto and Aspera with PacGenesis
If you're looking for a solution to secure your content, collaborate with team members and stockholders, or both, PacGenesis can help. With over 10 years of experience helping businesses identify their content and data security and file transfer needs, PacGenesis is a recognized partner by both Irdeto and Aspera. Contact us today to talk about the type of security you're looking for, and we can help you learn more about the importance of a cybersecurity platform with forensic watermarking and easy integration. 
To learn more about PacGenesis, follow @PacGenesis on Facebook, Twitter, and LinkedIn, or visit us at pacgenesis.com.